ailsa_chan
Holiday report under the cut. Warning, will be long and full of pictures. I haven't really felt like writing this, but if I don't do it soon I'll forget things.
There's only one flight a day (at least with Iceland Air, I don't know about any other airlines) from Heathrow to Iceland, so I was a little paranoid about missing the flight. I'm always paranoid about traveling, I like to be plenty early, even if it means standing at a busstop in the pouring rain. I'm getting better, but I still condsider being late to be rude, so I'll try to be early to any appointment. Still, made the coach with plenty of time to spare, and arrived at Heathrow at about 10.30 for our 13.00 flight. I don't like Heathrow (though I doubt any other major airport is nicer). It's large, poorly laid out and labled and filled with shops selling tat. Finding our check-in was the worst part, we fortunately managed to look round at the right moment and find it behind us. Security wasn't too bad, though we did have to strip off coats, belts and shoes. I'd hate to be catching a flight when it was busy.
This was our plane: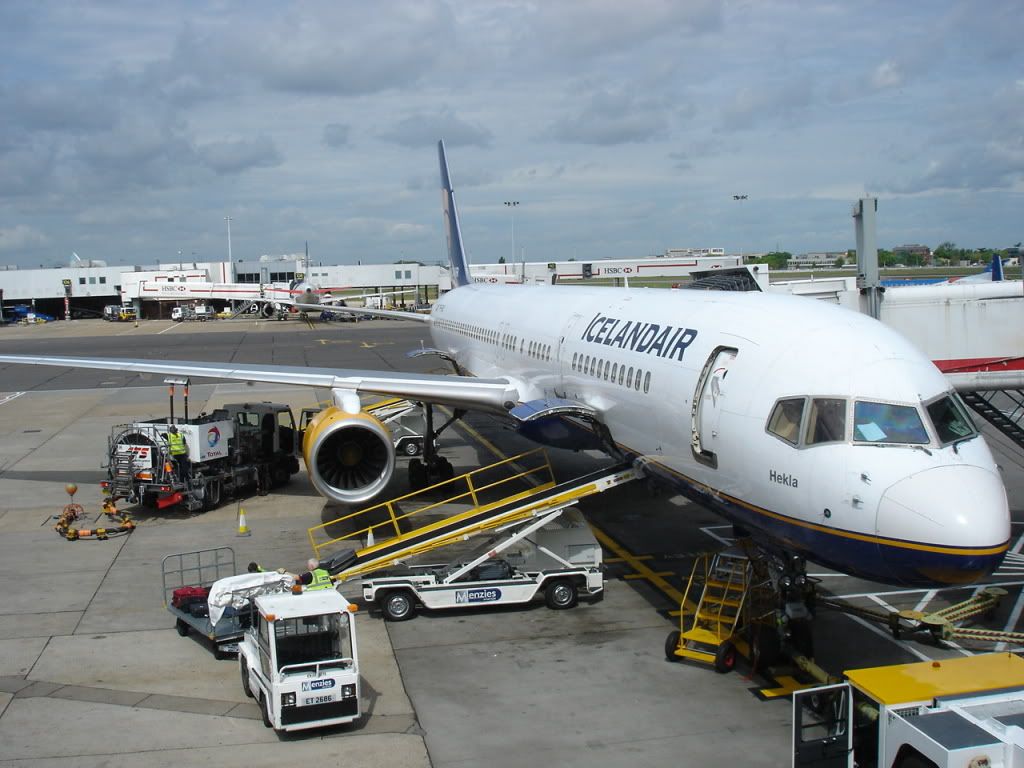 And this is me reading the Telegraph. They only had the Mail and the Telegraph and I didn't think reading the mail before a flight was a good idea!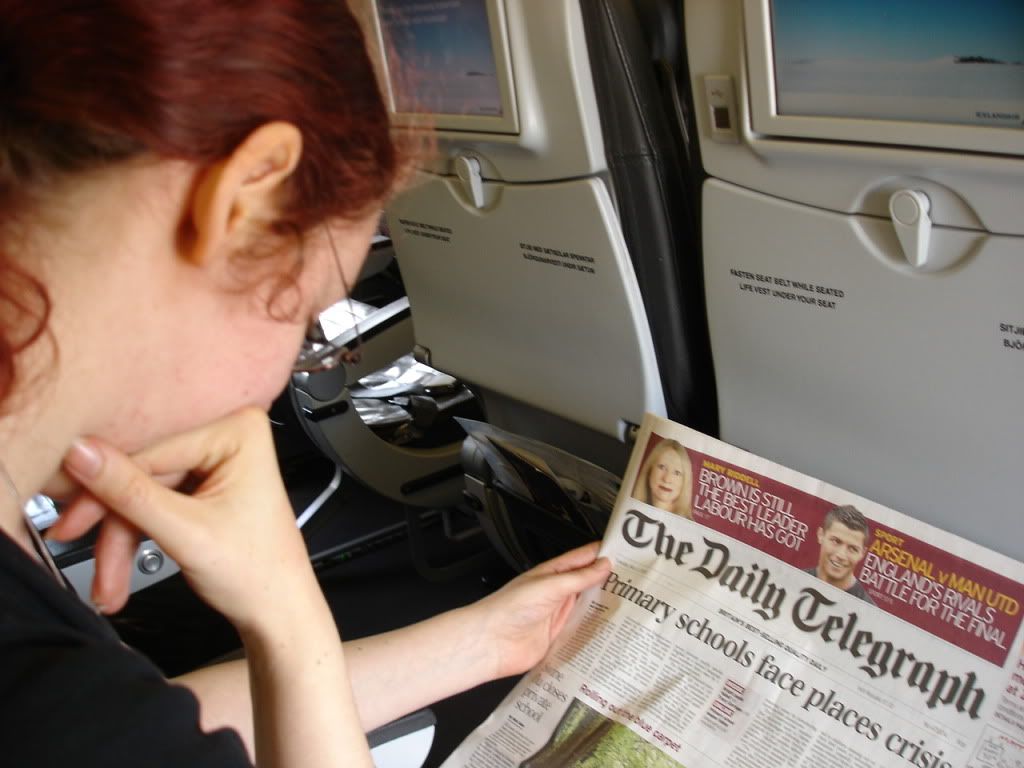 This was a funny plane thing we saw as we were taxying to the runway. We think it must be for evacuation practice or something similar: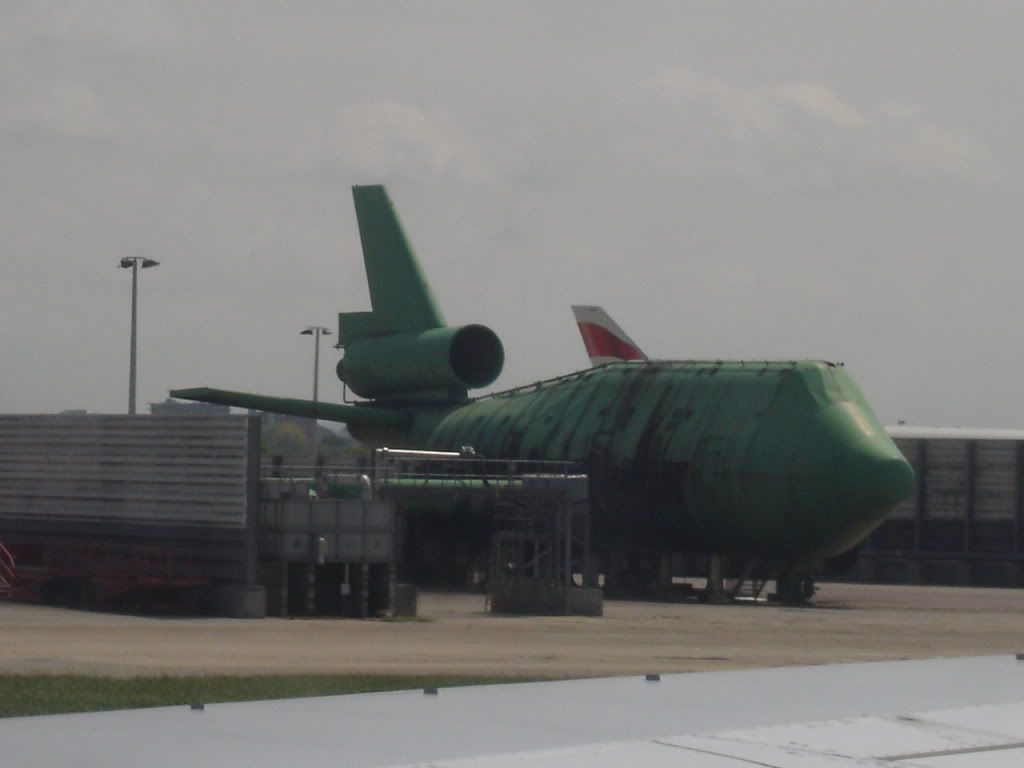 Joe took lots of pictures out of the window, as I was concentrating very hard on not looking out at the ground falling away beneath us. I'm not a very good flier, though that was only the second international flight I've ever been on. I think part of it is a lack of experience, so I don't know really what to expect, and what different noises mean. Fortunately there was no turbulence and the flight was very smooth. The only hiccup was losing the in flight entertainment system just before take off, but it came back shortly afterwards.
Photos of the flight can be found here:
http://s158.photobucket.com/albums/t91/ailsa-chan/Iceland/1%20-%20Flight%20to%20Reykjavik/
But here are a couple:
Take off -
<a href="
http://s158.photobucket.com/albums/t91/ailsa-chan/iceland/1%20-%20flight%20to%20reykjavik/?action=
"view&current=
Kitacon013.jpg"" target="_blank">
Over the clouds -
Glacier from above -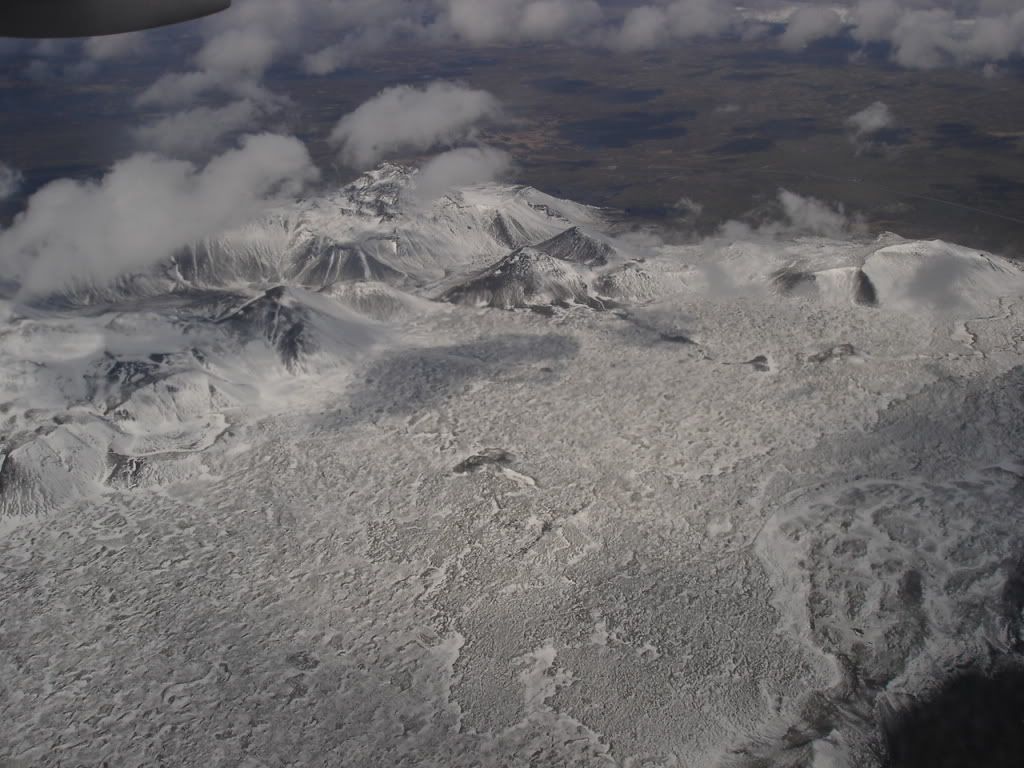 Landing -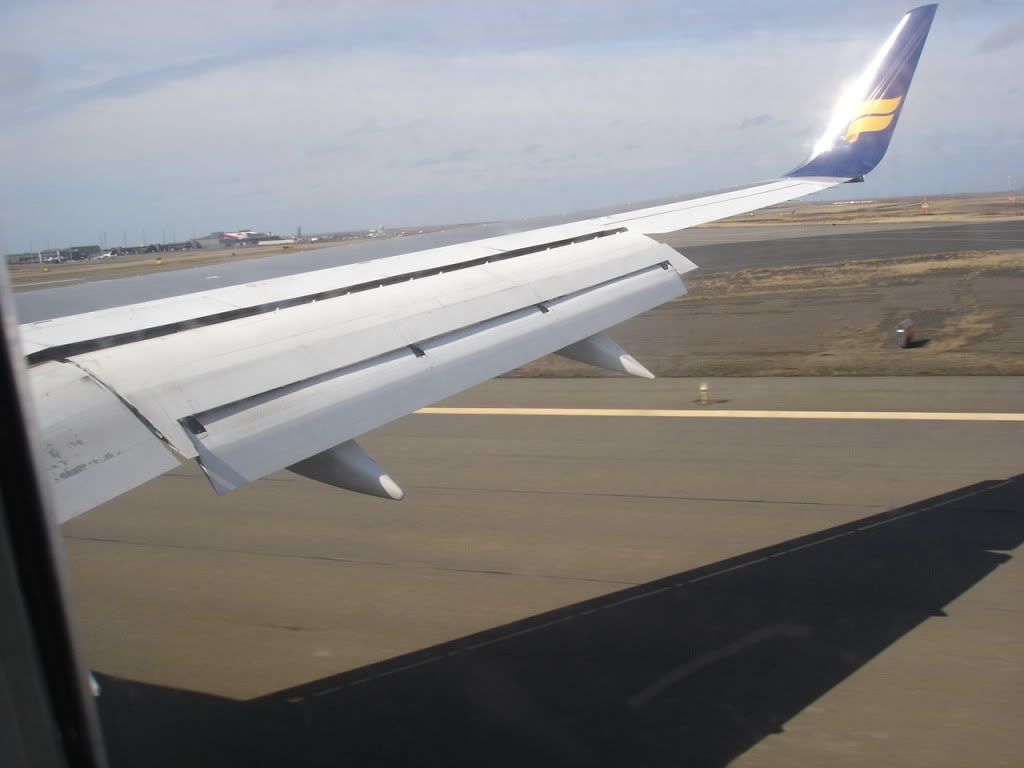 Keflavik airport is actually a short way down the coast from Reykjavik, so we had to get the flybus down up to the city. This involves getting on a coach down to the bus station, and then a minibus to the actual hotel. Pretty much anything you choose to do in the area will pick you up and drop you off at your hotel, which is very convienent. It was about 4pm Icelandic time when we got to the hotel, and so we dropped stuff off and headed out to have a look about town. The hotel was clean and functional, which is all you really need from a hotel. The most I intended to do there was store things and sleep, and it was fine for that. The hotel staff were also very helpful, giving us recommendations and booking things for us. Most people in Iceland seemed to speak English perfectly, which was a big help. The best thing about the hotel was the water: cold water was fresh spring water, and the hot water was geothermally heated from deep bores, and smelt slightly of sulphur.
This wasn't the view from our hotel window, as we faced the main street, but it was the view from just outside:
Unless you are looking right out to sea, you can't turn any direction without seeing mountains somewhere. Reykjavik city itself wasn't quite what we expected. For a start, it's very recent, with only a couple of buildings around a hundred years old, and most much younger. Buildings are mostly made of concrete, or corregated sheets of metal, which makes sense when you consider there isn't much in Iceland that makes suitable building materials, as all the rock is porus volcanic rocks, and bricks are heavy (and therefore expensive) to import. Even the churchs were made of the same thing:
This is the Pond - a lake near the town hall. It freezes over in winter, so they pump geothermally heated water in to make sure the birds have somewhere to go.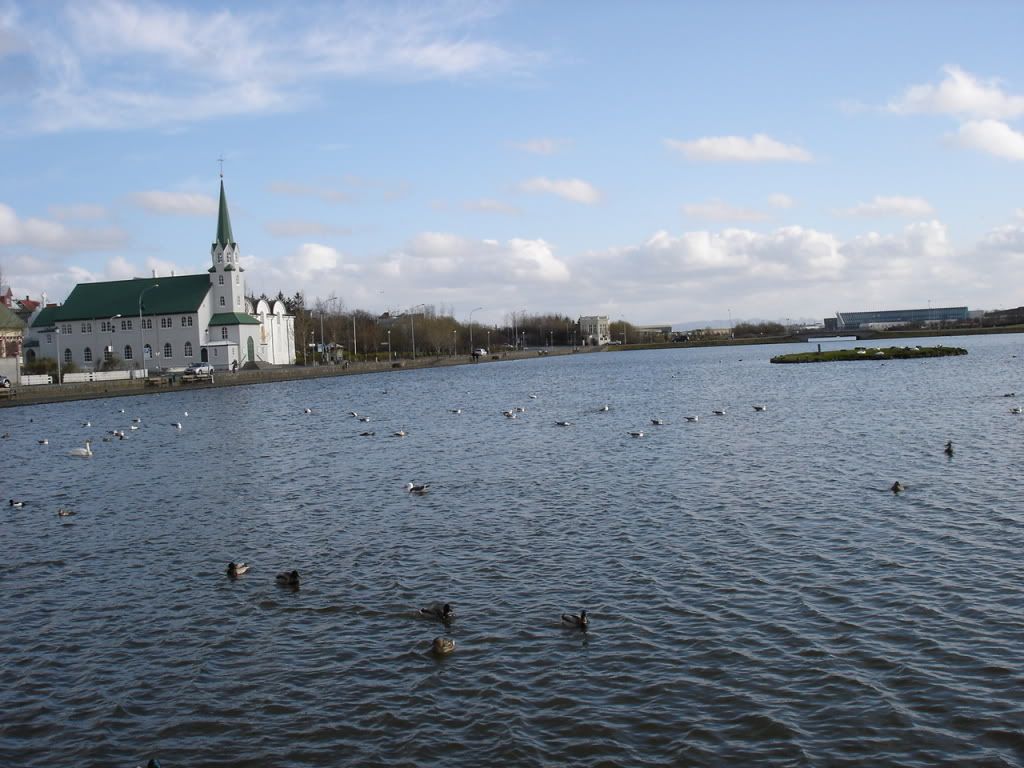 You can't really here it in the video, but we found the cooing duck! (Those of you who have never met Matt the Hat will not understand the significance of this.)
We had dinner at a place called "Sea Baron". This is an old fishing shack, owned by a retired fisherman. The menu was a chiller cabinate with trays of fish kababs and you just selected what you wanted and it was cooked up for you. They also did the most amazing lobster soup. It was thick, hearty and warming - just the thing for when you've come off a fishing boat, I imagine! This is Joe's, he had Blue Ling. I had Redfish, which was very tasty.
Afterwards we went for a walk and found the largest church in Iceland. Unfortunately the concrete is full of holes, so there was scaffolding all the way up the main tower.
The next day we got up, headed into town and discovered that Iceland wakes up later than we do - nothing was open before ten. We wandered around and eventually went down to the Settlement excebition. This was an uncovered Viking longhouse, that had been excavated under a building, and set up with a small museum. For it's size, it was very interesting, and everything was in English as well as Icelandic. For example, DNA studies have shown that the Icelandic sheep and ponies are Norwegian, but the fieldmice are British in origin. The men are Scandanivan, but most of the women are Celtic.
After that we went to have a hotdog at the best hotdog stand in Europe, though it wasn't really what I'd consider a hotdog, more like Subway, with strips of meat. It was however, very very tasty, and much better than the fast food you normally get. Famous visitors to the stand include Bill Clinton and the guitarist from Metallica. Then it was off to catch the whale-boat.
The weather was beautiful: bright, sunny, very little wind which was lucky because it was pretty damn cold on that boat! It was a small catamaran, so we would have felt any waves, but there was very little swell. We were a little apprehensive, as we were quite early in the season, and didn't know what we'd see. The boat in the morning had seen some Minkie whales, so they knew they were out in there, but as the guide said, what you saw depended on what the mood of the whales.
After we had been out there for a while someone thought they saw the blow of a Minkie. As the boat turned to investigate, a much larger blow was spotted - we'd found a humpback whale. As we got closer, we could see this was a massive animal: the guide estimated he was 30-35 tonnes, with the average being about 25. Fortunately he was heading towards Reykjavik as he fed, so we got to watch him for a good long time. You'd spot the blow first, then his back and dorsal fin. He'd come up and breath about 3 times, then the last time he'd show his fluke (tail) and head down for a longer dive. Unfortunately, he was very hard to photograph, but I did get this one: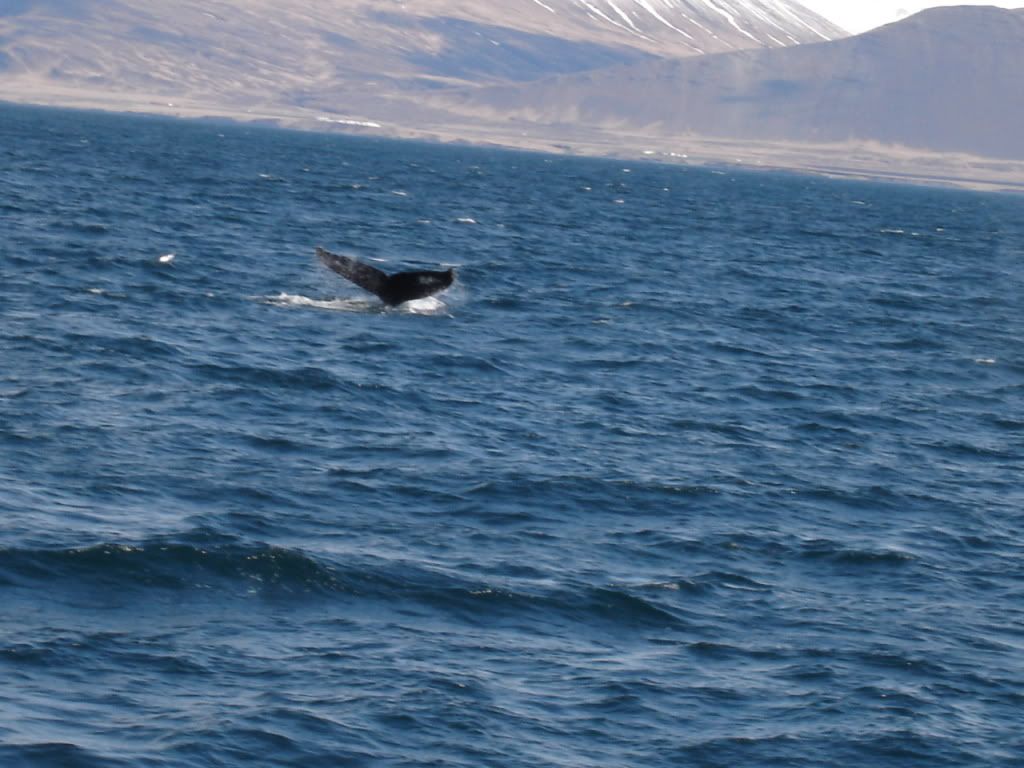 We didn't see any dolpins when out, but we did see plenty of puffins. They would sit in the water, and as the boat came towards them, they'd fly off, flapping their stubby little wings for all they were worth.
For dinner, we went here:
This is the Perlan (the pearl), a dome built on top of 6 water tanks that stands at the highest point of the city. Under the dome is a high class rotating restraunt. We had am exceptional four-course meal, including smoked duck, lobster soup, lamb or fish and creme brulee and Icelandic icecream. Also enjoyed some alcohol removed wine, which went very well with the meal, and was free because they didn't have the bottle we wanted.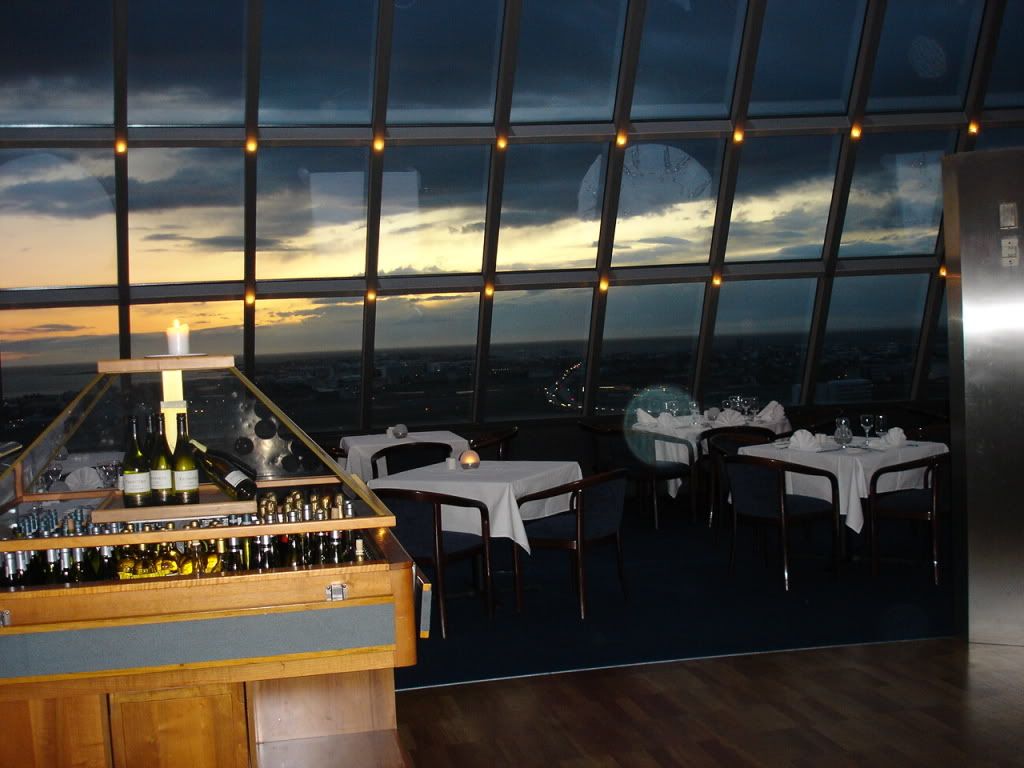 The next day we went off to the see the geological sights of Iceland, via Super Jeep: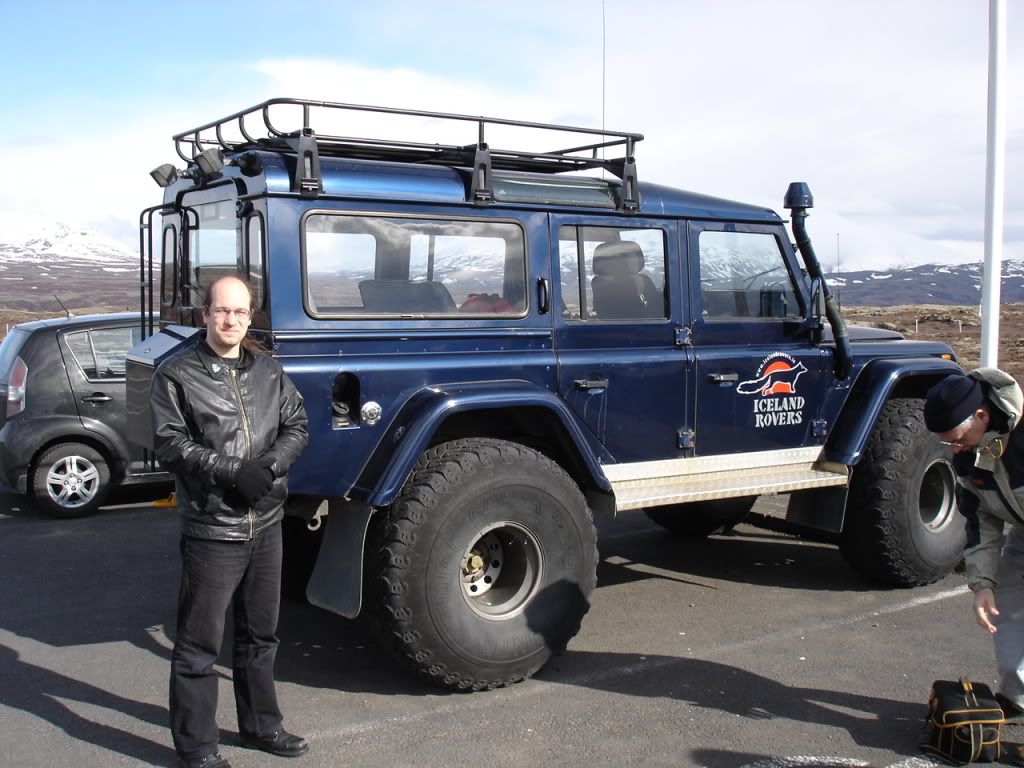 Our first stop was in Thinvellir National Park, at the rift valley. This is one of the few sites where you can see the Mid-Atlantic ridge on land.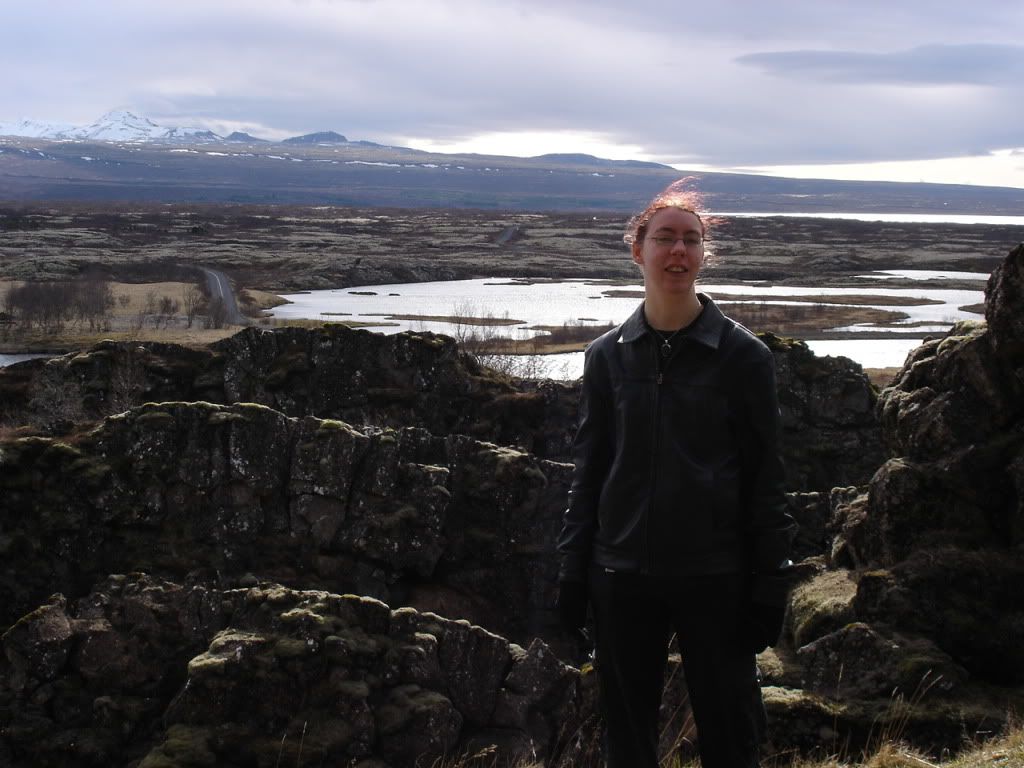 I'm standing on one plate. The valley floor behind me is the new material formed as the plates drift apart, and there is a similar ridge from the other plate on the other side. Iceland is growing at about 2.3 cm a year. This is also the site of the original Icelandic parlament, believed to be the first national democracy in the world.
Another shot of the valley: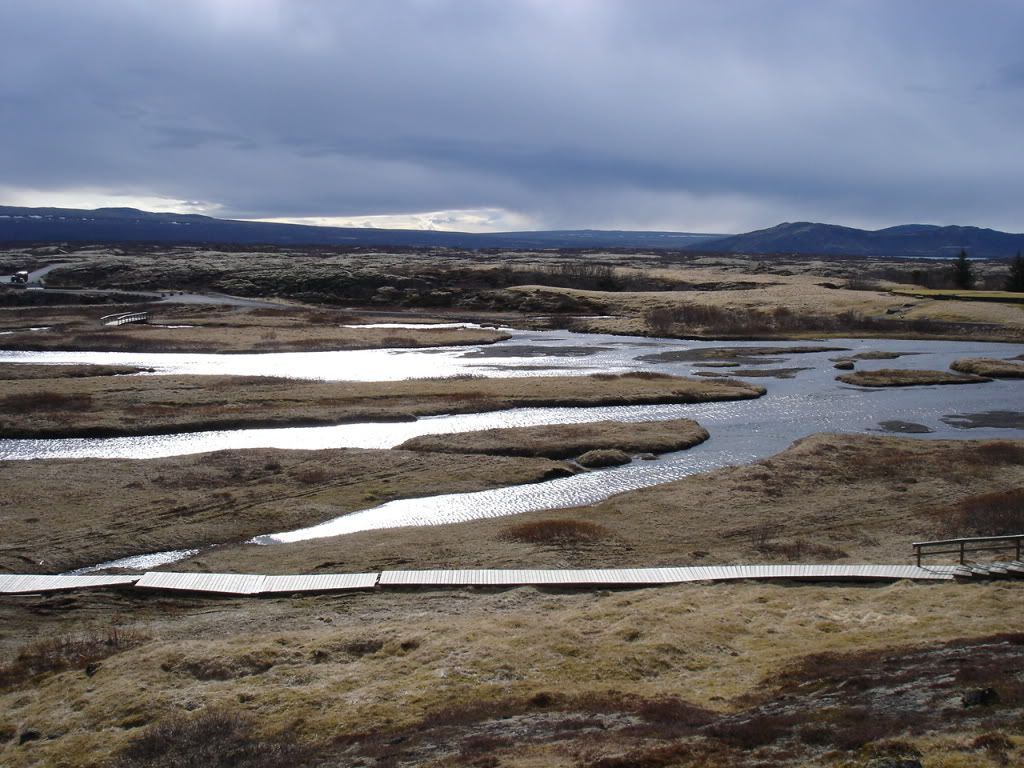 Definitely bandit country: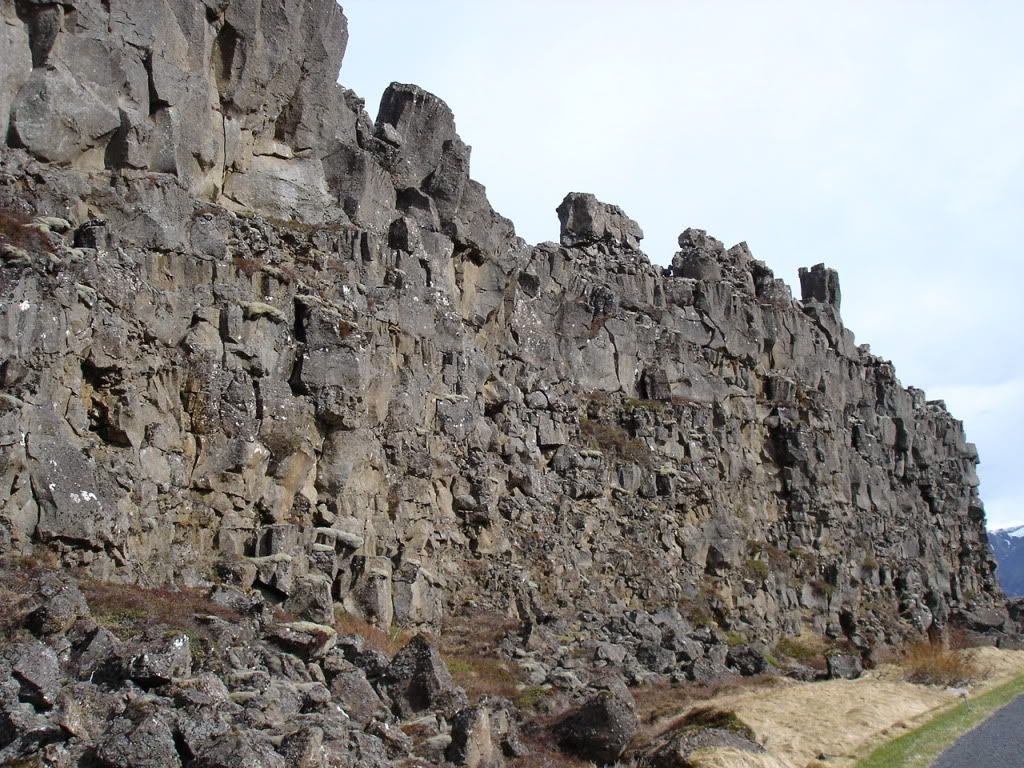 There were deep crevaces filled with crystal clear waters. Aparently there is a very good diving spot a little further down from here:
The next stop was the largest hot spring in the country (and in Europe I believe). The water coming out the ground was about 98 degrees, just shy of boiling. It's piped and sent down to other villages for heating and washing. Even though the water loses about twenty degrees on its 70km journey they still need to cool it a bit at the destination. Even when the pipe is underground, it's wasy to see where it goes, as there is a narrow stip of bright green grass over it, while all around the grass is yellowy-brown.
The air was full of warm steam: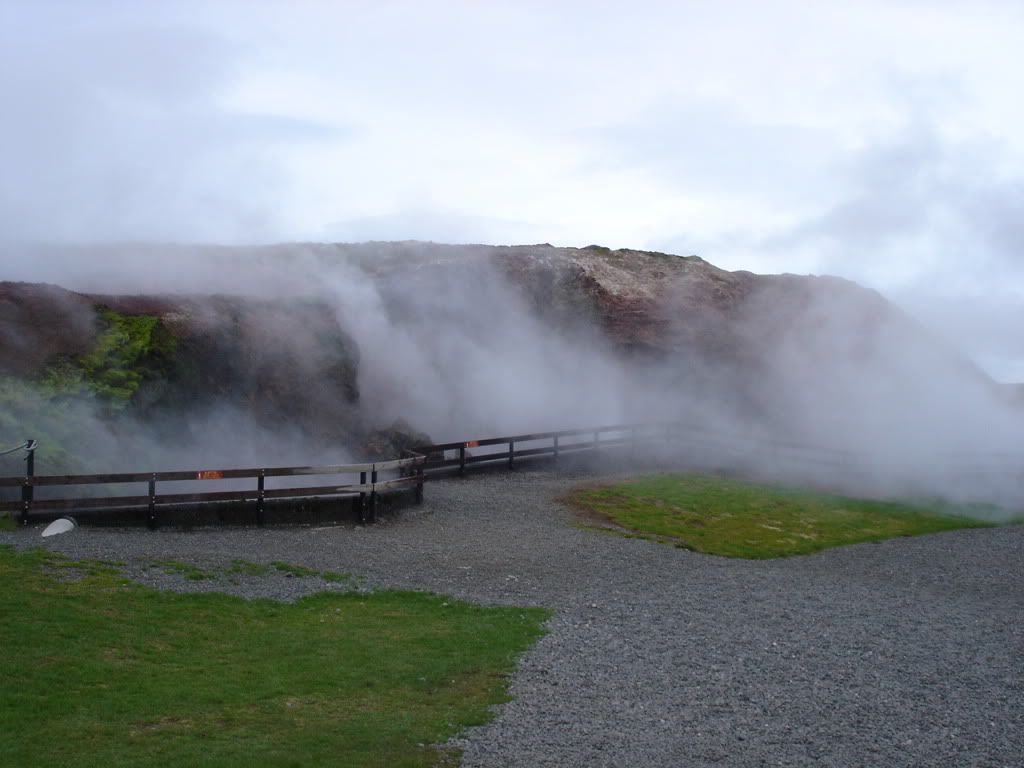 On a bit further to Barnafoss waterfall. Here, a more recent and porus lava flow had covered an older, non porus on, so the water seeped through until it could go no further, and when it came to cracks in the lava, it came bursting out:
As you can see, it was a beautiful blue colour: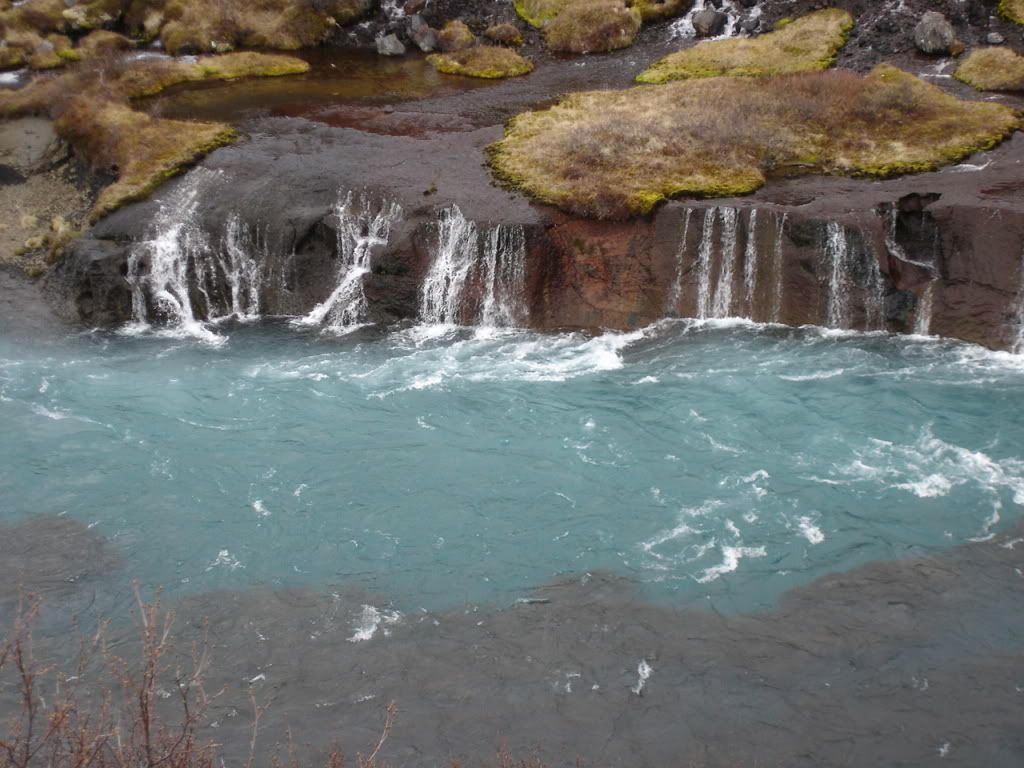 Further up, the waterfall was even more spectacular: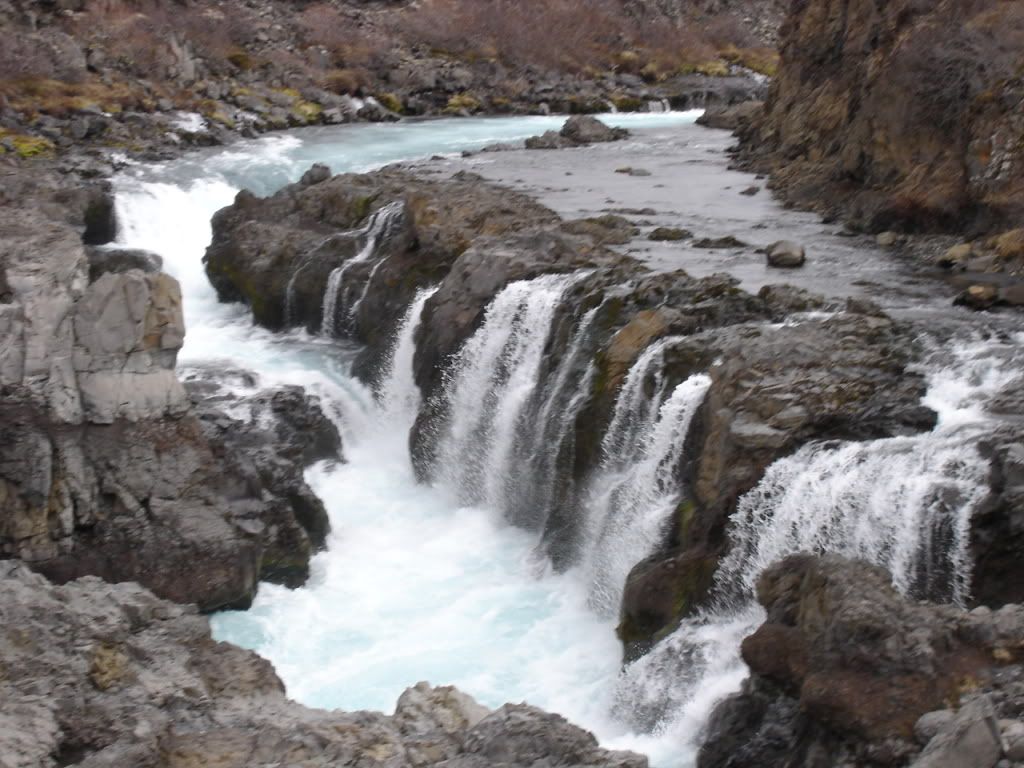 There used to be a stone arch across the waterfall. One Christmas, a family from the area went off to church, leaving behind two young children. They came back to discover the children nowhere in sight, but footprints leading down to the river. They had fallen into the waterfall and drowned. The grieving mother ordered the arch torn down and the waterfall became known as Barnafoss - the Children's Waterfall.
Tiny little waterfall and pool: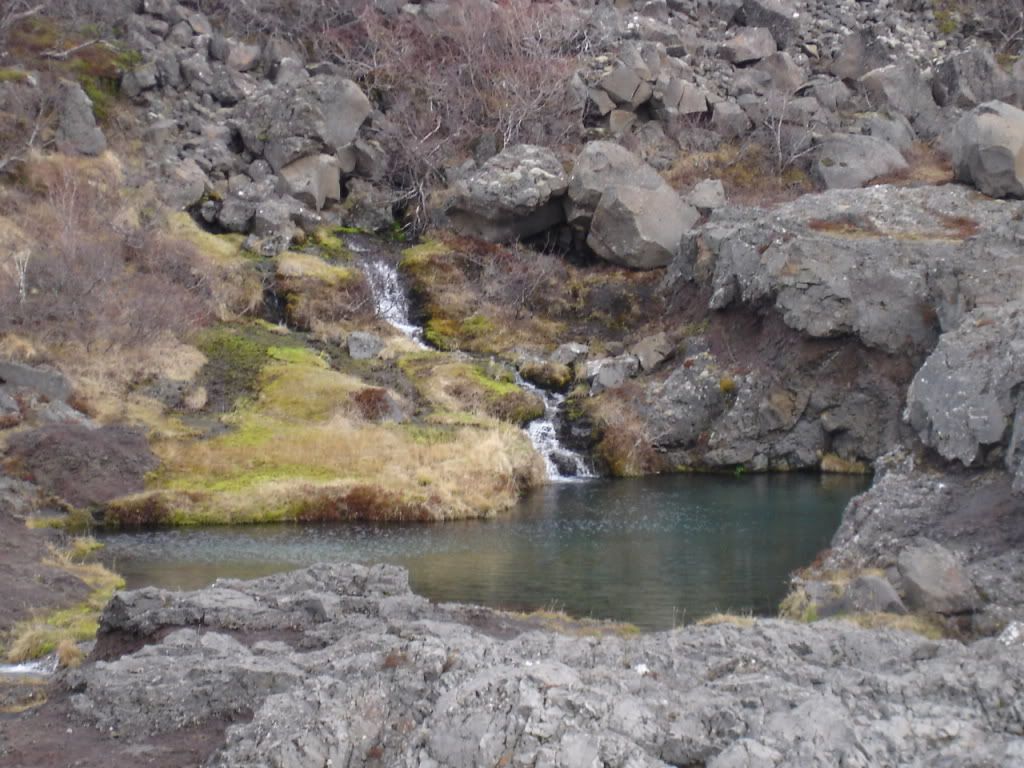 Raging torrent: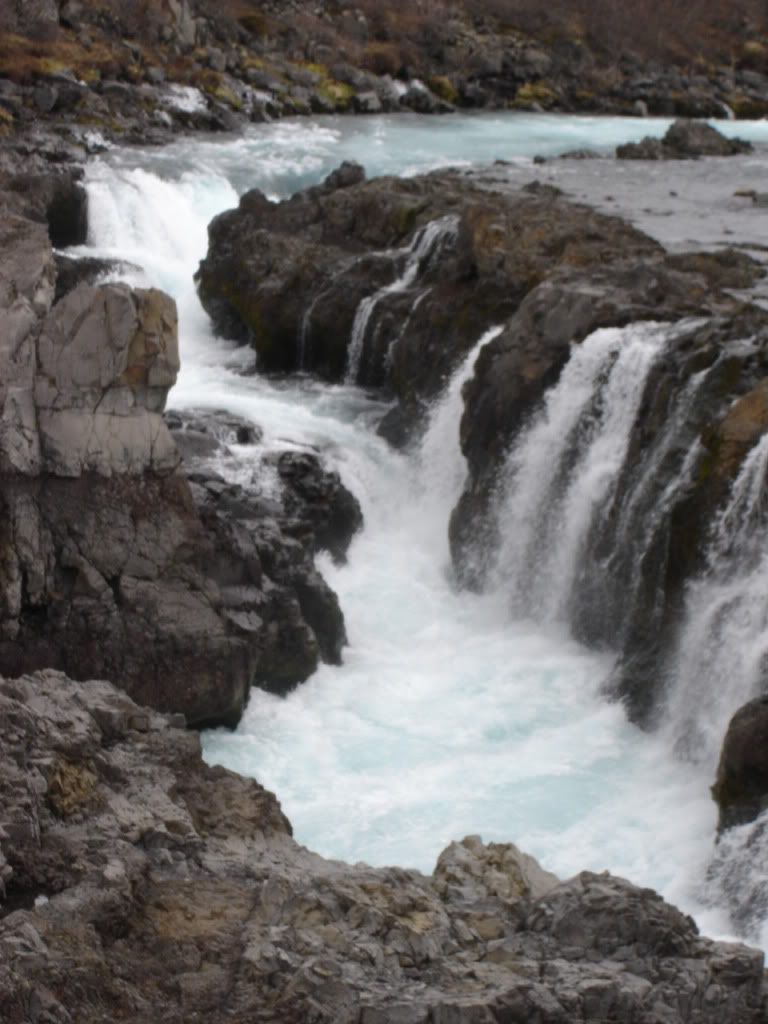 We climbed higher, until we reached tracks that were marked 4x4 only, no cars, and they stopped being roads. Not long after, it started snowing. We were high up in the mountains and near the glacier. We passed what was obviously a cafe and rest-stop. It was buried in snow up to the roof, and one of the doors had blown in. Clearly a summer venue then. The super jeep was capable of driving across the glacier, but we had to let some of the air out of the tires first.
Tire tracks:
Mostly the glacier was write:
And very cold:
What's over there?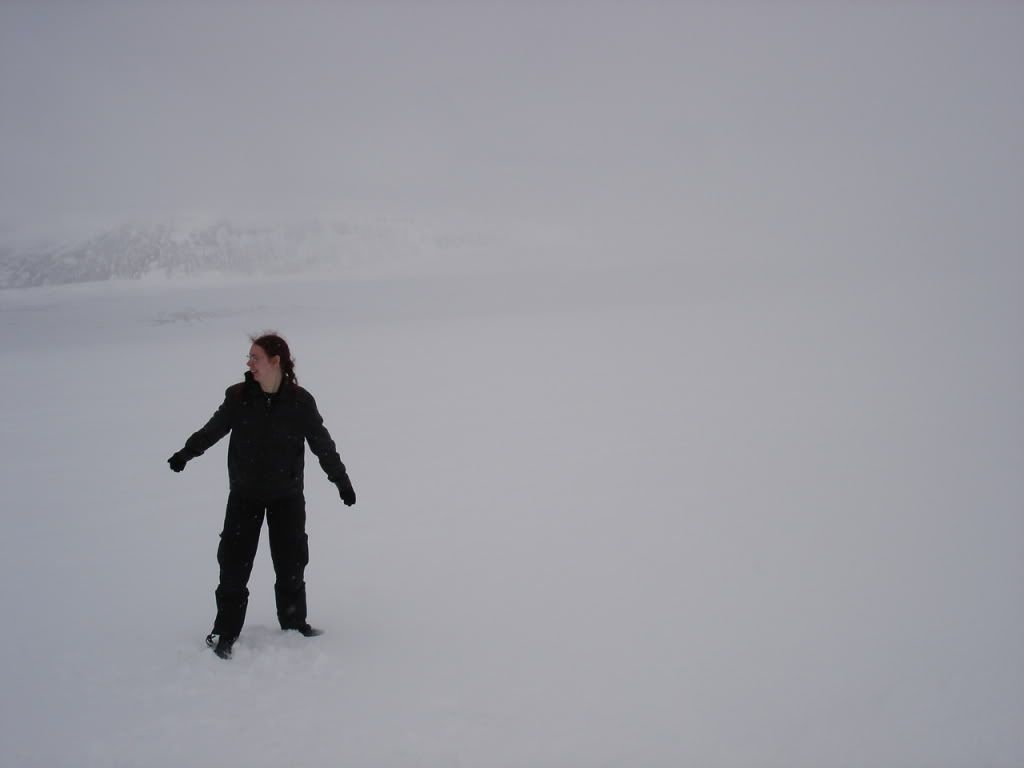 Not all white!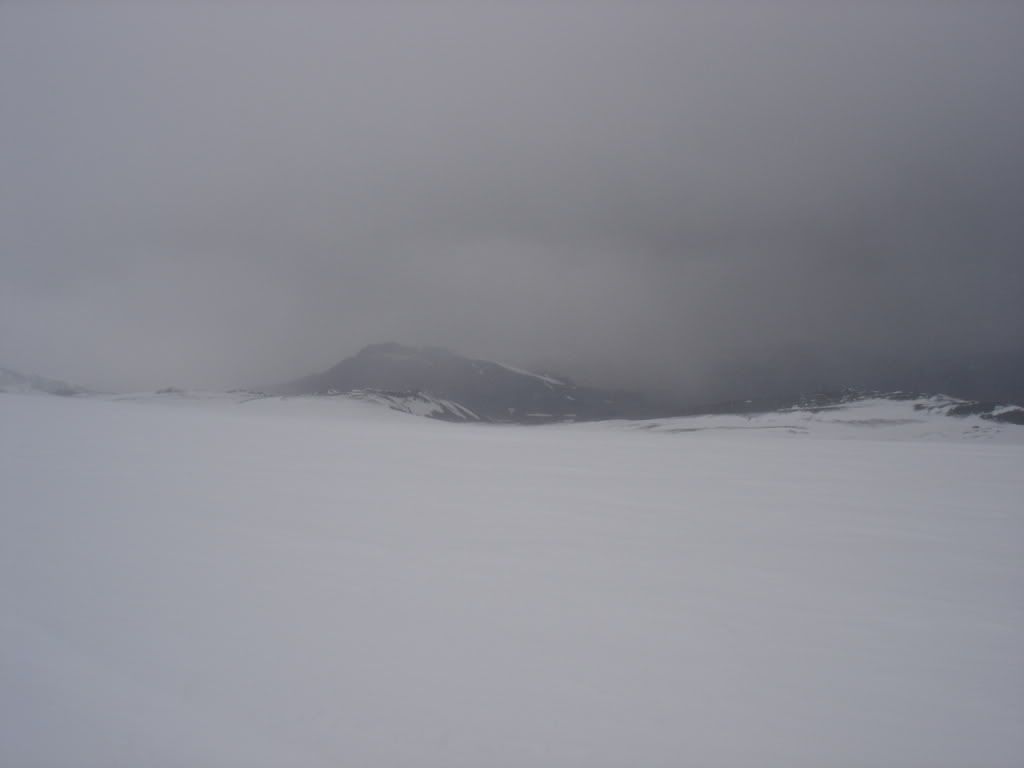 The last stop on the tour was a lava cave. This is where lava at the edges of a flow cool and solidfy, while the lava in the centre carries on flowing, carving out long tubular caves. Lava fields were very distintive and covered with soft springing moss and lichen. Paul would love it I'm sure.
Lava field:
Cave entrance:
Ready to go adventuring:
The cave mouth:
As you can see the floor is littered with rocks, so only Joe and I ventured inside. In fact it was even more treturous, as much of the ground was covered in ice as well. Still, it was very pretty:
You couldn't go very far in, as it belonged to a farmer who had put up a gate to stop people going further as there was a chamber of stalagmites and he didn't want people damaging them. Still, we went as far as we could: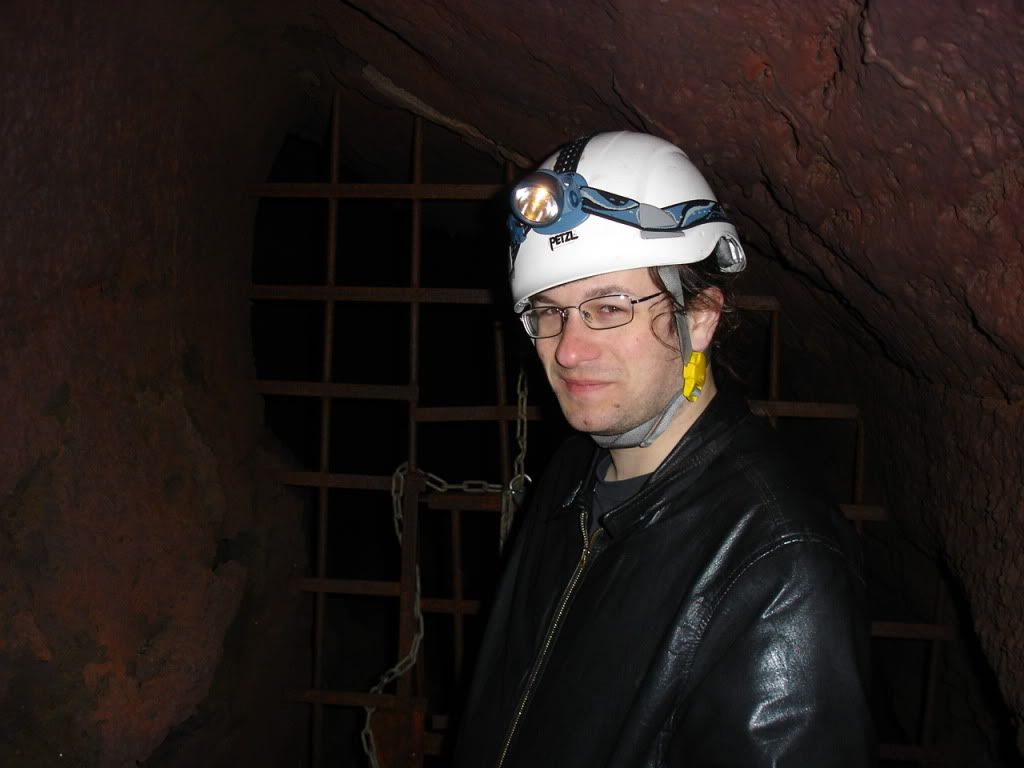 For dinner we went to a restrant near the harbour which was recommended by the hotel. They had a three course gormet menu, which changed depending on what was in season and available that day so each course was a surprise. It was both interesting and tasty, and very good value for money. We also had cocktails: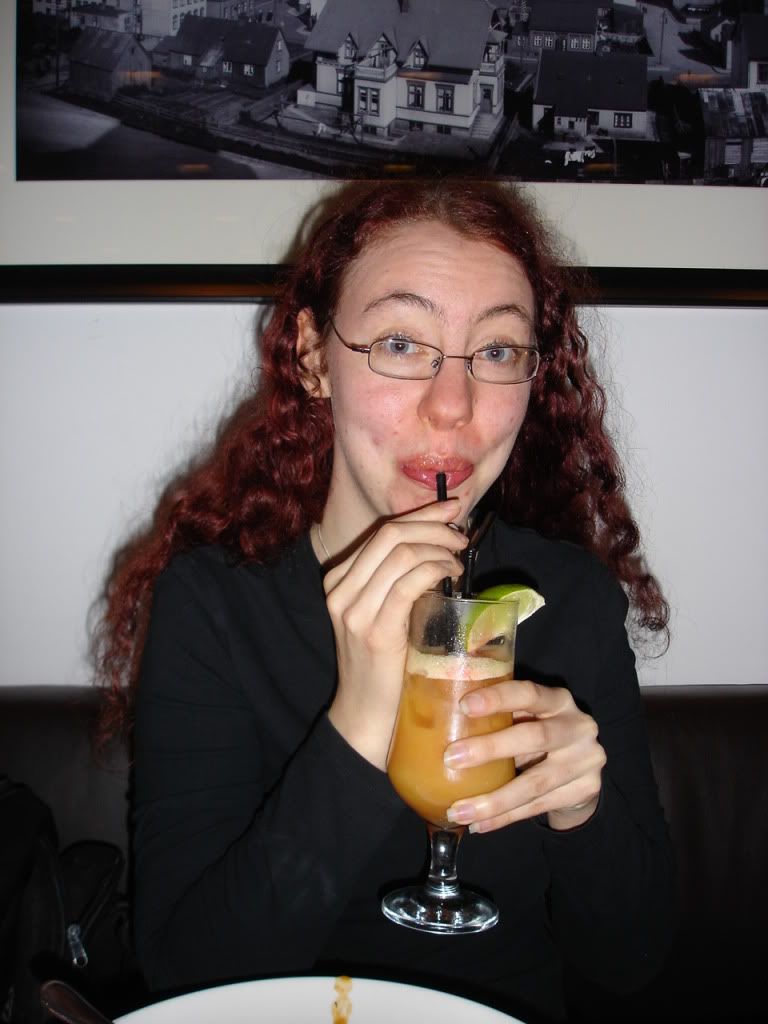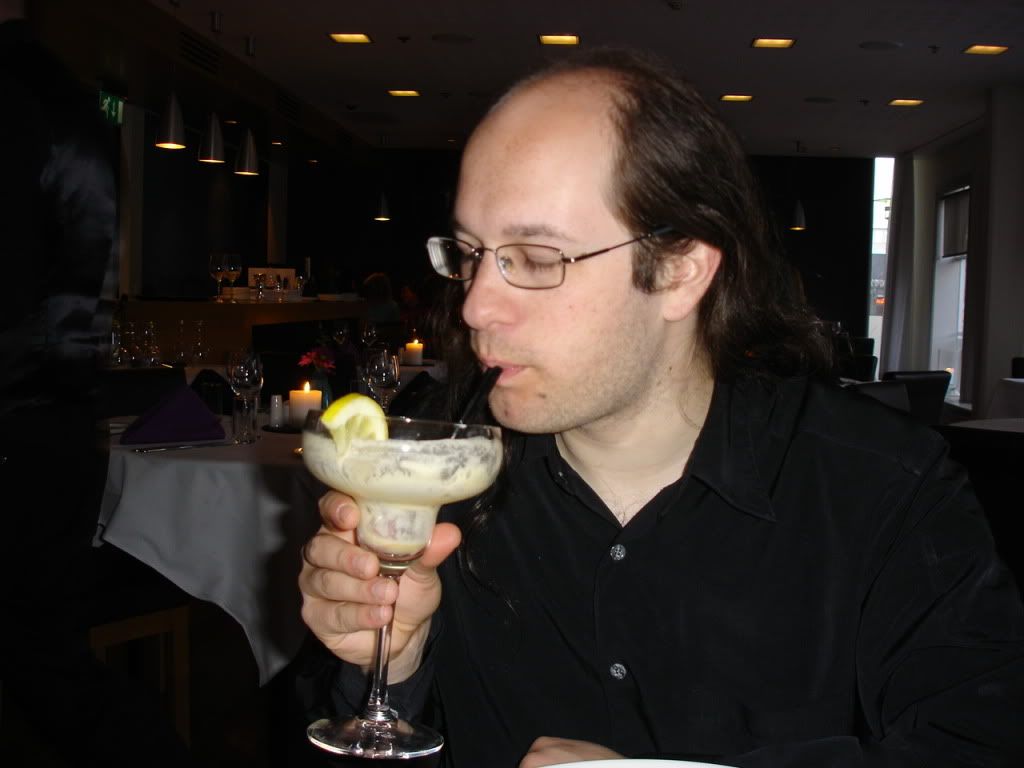 On the last morning we had a lie in and then a quick breakfast. The hotel breakfast range included honey bread and various things to go on it like trout pate, pickled eggs, fish stew etc; bread rolls and crackers with meat and cheese; and also waffles. We walked out and did some shopping, found the local comic shop:
and then headed up to the big church and a little place called Loki's cafe that we'd spotted for lunch. It was a lovely little place that had homemade bread and traditional Icelandic foods. Joe ordered an Icelandic Plate II: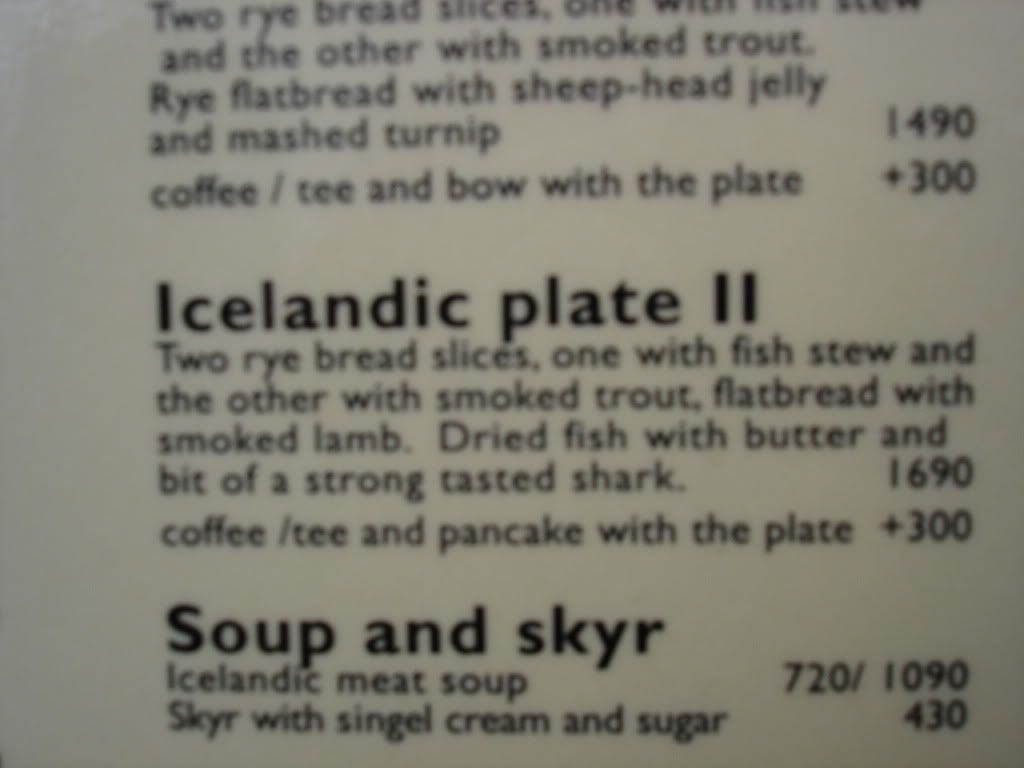 Most of it was very tasty, but we both agreed that fermented shark was not for us. So did the waitress, although apparently her mother loves it.
Sadly, it was time to leave and get the plane. Keflavik airport was much smaller, quieter and easier to navigate than Heathrow. Joe took some videos of the takeoff and landing, but unfortunately they're too big to upload as they are and I haven't got round to splitting them up yet. We arrived back safe and sound and so did our luggage, and headed off to the coach. The central coach station at Heathrow is a depressing place I must admit. Got home some time after midnight on Friday night.
TL;DR? Iceland was awesome; saw a humpack whale; ate much good food; visited many exciting geological features; survived aeroplane. Back home, tired and down.